Delicious, fresh and healthy, salmon makes a great breakfast. Choose one of these easy, healthy and delicious salmon breakfast ideas to start your day off right. Most are under 30 minutes to make. Also find gluten-free, make-ahead and easy to pack recipes.
Salmon + Eggs
Whether you have fresh salmon, cured gravlax, smoked salmon or canned salmon, if you pair it with eggs, you've got an awesome, high protein breakfast that will fuel your day. Maybe one of these will become one of your new favorite salmon breakfast recipes!
Farm fresh eggs served scrambled, poached or fried with a runny yolk add the perfect touch to these salmon breakfast recipes. From salmon benedict with creamy hollandaise sauce to a luxurious salmon and crab cake stack or an easy, make-ahead frittata, we've got you covered.
Salmon Crab Cakes + Eggs
Salmon Crab Cakes made with canned lump crabmeat, salmon, parsley and green onions for a delicious, healthy, uncomplicated, and protein-filled meal.
Salmon Crab Cakes + Eggs
Eggs Royale (Salmon Eggs Benedict)
Eggs Royale are poached eggs with smoked salmon bathed in hollandaise and served on toasted English muffins.
Eggs Royale
Egg Tacos with Smoked Salmon
Flour or corn tortillas get filled with an egg mixture and smoked salmon. Tasty, flavorful salmon breakfast tacos area great option for breakfast or brunch. Add some sliced avocados to your warm tortilla for an extra tasty touch.
Egg + Salmon Tacos
Smoked Salmon, Avocado, & Ricotta Frittata (GF)
Smoked salmon frittata, anyone? Smoked salmon, avocado, & ricotta frittata is the perfect healthy and flavorful breakfast. Cottage cheese can be substituted for the ricotta cheese.
Salmon, Avocado, & Ricotta Frittata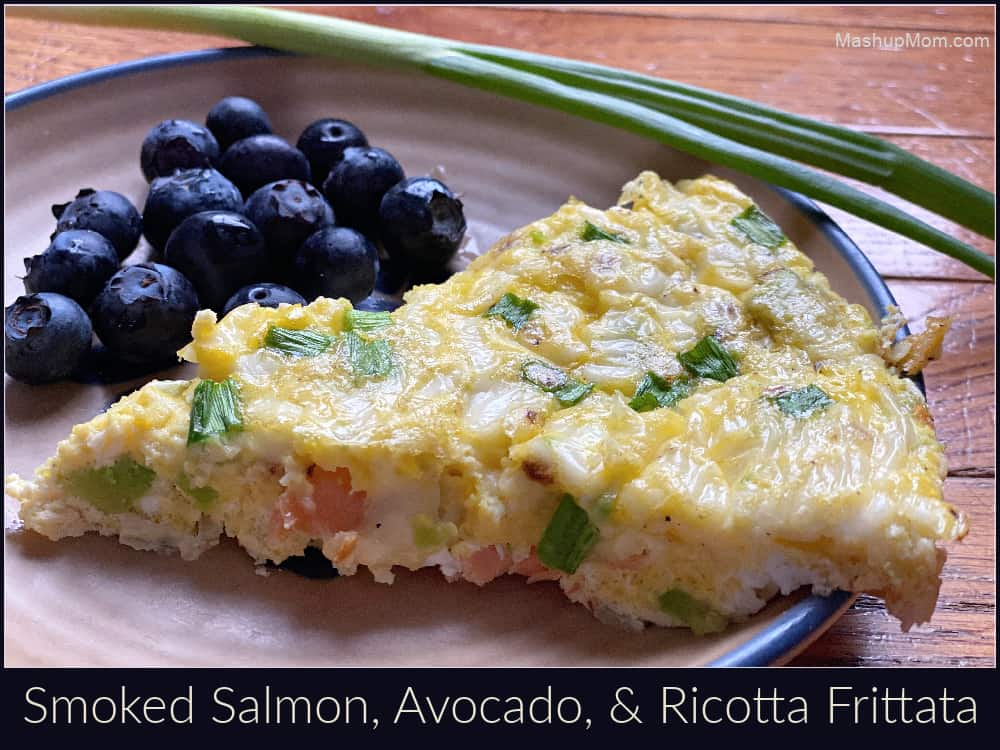 Quiche + Casseroles
Fresh farm eggs and healthy salmon are a perfect breakfast. Quiche is a great make-ahead recipe for breakfast or brunch and can be served warm, cold or at room temperature. Salmon quiche is a fabulous dish for a potluck or breakfast for a picnic or camping.
Salmon and Spinach Quiche
Salmon and spinach quiche is a light, creamy and indulgent treat that is perfect for breakfast or brunch. This one is easy to make ahead and reheat or serve at room temperature. Heading off camping or cottaging? A quiche made ahead is perfect for serving up family and friends without a lot of fuss.
Salmon Spinach Quiche
Broccoli and Smoked Salmon Quiche
A creamy, cheesy & tasty broccoli and smoked salmon quiche. Made with broccoli, smoked salmon, cheddar cheese, onions, eggs, herbs and cream.
Smoked Salmon + Broccoli Quiche
Smoked Salmon Crustless Quiche
Perfect for using leftover salmon, this easy "impossible pie" recipe makes its own crust. Quick, simple prep; ready to eat in under an hour.
Smoked Salmon Crustless Quiche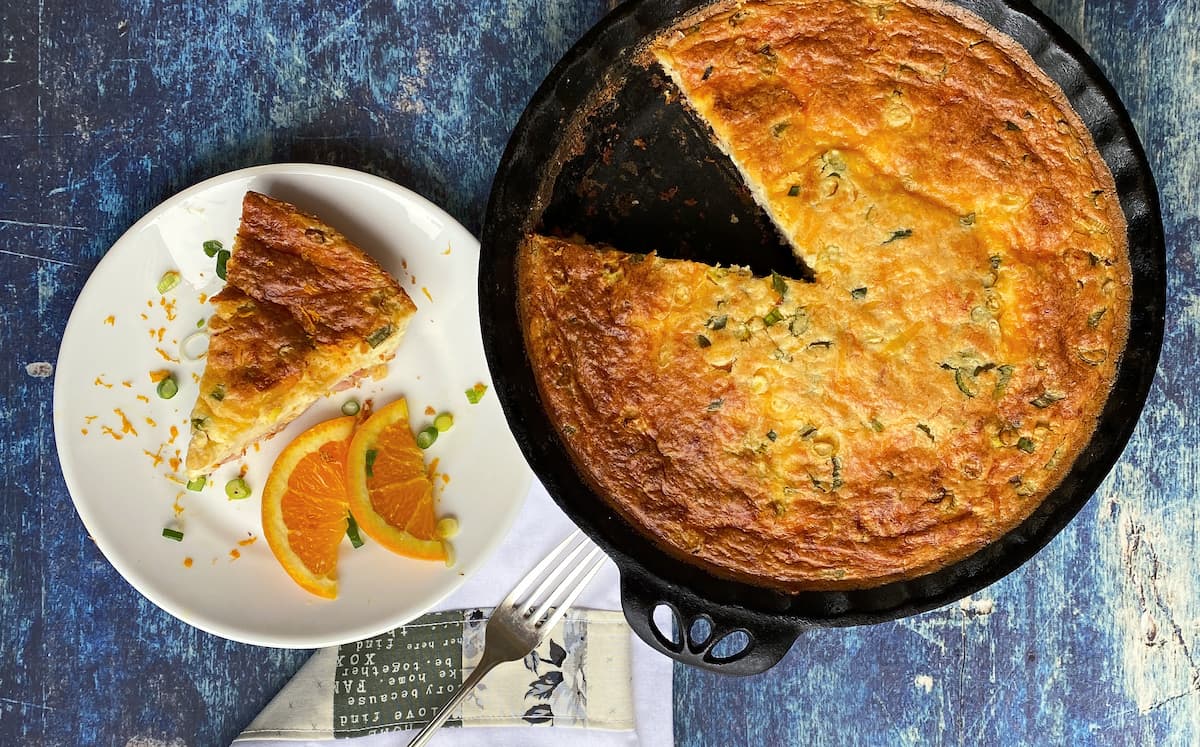 More Salmon Recipes
Love salmon any time of day? Try one of these easy recipes for appetizers, lunch and dinner!
Salmon Breakfast Bowls
Breakfast bowls are having a moment and for good reason. Add in your favorite fresh veggies, smoked, canned or leftover salmon, herbs (dill, chervil and chives are tasty pairings) and a tasty sauce for an easy to customize power breakfast. A salmon bowl is a great make-and-take breakfast, just pack the dressing separately and drizzle over when ready to eat.
Smoked Salmon Breakfast Bowl Recipe
Easy egg-free savory breakfast that you can make ahead of time for a quick morning. AIP, paleo, and Whole30 approved!
Smoked Salmon Breakfast Bowl
Salmon Bacon
Everyone loves bacon but why not try you favorite breakfast recipes with salmon bacon?! Salty and sweet, this has a great texture that goes well with any egg recipes.
How to Make Salmon Bacon in the Oven
This easy smoked salmon bacon cooks up in the oven in just 20 minutes and makes a great first meal of the day. Pair it up with buttered toast, soft scrambled eggs or a perfectly poached egg with a runny egg yolk for a quick breakfast.
Salmon Bacon
Salmon Breakfast Platter
Pair up salmon with some cream cheese or crème fraîche, chopped fresh chives or dill, slivered red onion, sliced hard boiled eggs, capers and bagels for a luxe breakfast board. Use hot or cold smoked salmon as below or even use a drained and salted tin of canned salmon. Top your salmon creation with a squish of lemon juice and fresh cracked pepper for a fresh tasting breakfast. This is perfect for weekend brunch with friends.
Smoked Salmon Bagel Platter
This smoked salmon bagel platter is sure to impress with all the best toppings. Fresh dill, lemon, cucumber, tomato and hard boiled eggs make flavorful bagel toppings to highlight your salmon.
Smoked Salmon Bagel Platter
Everything Bagel and Lox Spread
Everything bagel seasoning, fresh herbs, and cold smoked salmon (lox) get mixed up in a medium bowl and refrigerated. This easy breakfast allows you to feed a crowd without breaking the bank. Cold salmon spread is fantastic on bagels, toast or in place of bacon on your eggs benny.
Everything Bagel and Lox Spread
Toast + Tartine
Salmon breakfast toast elevated. Top your favorite toast with silky scrambled eggs and cured or smoked salmon for a Scandinavian style breakfast. Such a simple meal that feels so fancy served up with fresh squeezed fruit juice and a hot coffee.
Gravlax Tartine
Open-faced tartine with gravlax (or smoked salmon), cream cheese, pickled onion, preserved lemon, pickled mustard seed. This salmon recipe is ultra easy and totally satisfying.
Gravlax Tartine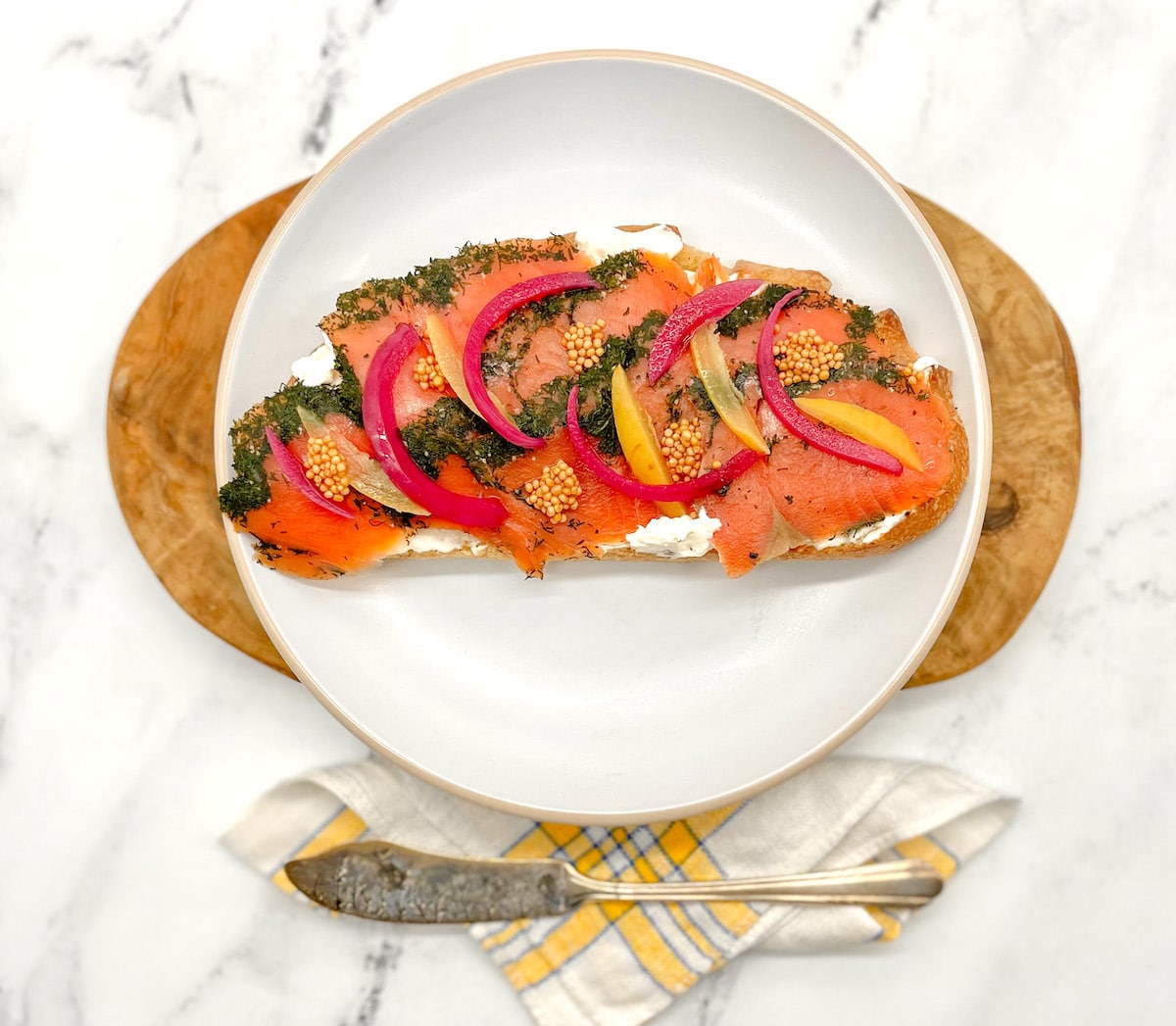 Smoked salmon and scrambled eggs on toast
Fluffy scrambled eggs topped with silky slivers of smoked salmon on toast combined with soft cream cheese, cherry tomatoes and chives elevates this breakfast recipe to a scrumptious feast.
Salmon + Scrambled Egg Toast
More Great Salmon Breakfast Ideas
The above are some of my favorite delicious breakfast ideas but there are more ways to enjoy salmon in the morning too. Check out these easy to customize salmon breakfasts and brunch recipes.
Savory Pancakes - Top your morning pancakes with creme fraiche, dill and gravlax for a savory morning treat. Perfect with a mimosa!
Breakfast Burrito - Leftover grilled salmon from dinner is great wrapped up with scrambled eggs, sliced avocado, sea salt, black pepper and a little hot sauce as a burrito.
Salmon Salad Topped Bagel - How about salmon salad (canned salmon, mayonnaise and chopped herbs, green onion or celery) on a toasted bagel or croissant with a sprinkle of lemon zest or juice?
Breakfast Croissant - Stuff a croissant with salmon, cream cheese and your favorite herbs or salad greens. A squeeze of lemon and a crack of pepper finish it off.
Salmon Tostada - A tostada is an easy salmon breakfast idea too. Spoon some canned beans on a crispy tostada shell and then top with cooked or smoked salmon. Next top with thinly sliced radishes and cilantro and finish it off with a shake of salt or sprinkle of crumbled queso and a squeeze of lime juice for a Mexican salmon breakfast.
Smoked Salmon Devilled Eggs - Prepare simple, halved devilled eggs (scoop the yolks out and mix with mayo, s+p, spoon back in). Top with rosettes of lox and garnish with chopped green onions or snipped chives.
Salmon Breakfast Scramble - Heat some melted butter over medium heat in a frying pan and add salt and pepper seasoned beaten eggs. Toss in flaked salmon (cooked, canned or smoked) and chopped chives. Stir gently and cook until soft curds form. Remove immediately and serve, topped with a dollop of sour cream, salmon roe if you have it, and extra chives.
Stuffed Avocados - Avocados are always a great breakfast idea. For a low carb, luxe start to your day, make this ultra easy recipe. Simply season avocado with salt, pepper and lime juice and stuff with your favorite salmon. Garnish with thinly sliced red onion and arugula salad.
More Recipe Collections
I hope this collection of luxurious salmon breakfast ideas hit the spot. Let me know below if you find a new favorite.
For more on what I'm cooking up, follow me on Instagram or Facebook. You might also like my FREE printable weekly meal planner.
Cheers friends! Sabrina