Meatless Monday is increasing in popularity and there are many good reasons why. Nutritious, budget friendly, earth friendly, often (but not always) lower calorie, and eating a vegetarian meal feels good. If you're already a vegetarian, you likely have a few great go-to recipes but for those of us who aren't, or those of us with picky family members, it can be tricky. I'm here to help you with these awesome Meatless Monday dinner ideas.
Fast and frugal or fancy and luxurious? These are some of the best vegetarian recipes!
I've collaborated with some of the best bloggers to find the best truly easy, delicious and crave-able Meatless Monday recipes. This post has vegetarian and vegan recipes for all tastes. There are lots of kid-pleasing family favorites and some spicier and more complex recipes too. Follow me on Facebook for more ideas!
Meatless, gluten-free and vegan healthy recipes
I've sorted this Meatless Monday recipe post into sections-Curry, Pub/Comfort Food, Pasta/Risotto, Stew/Soup/Stir fry, Tacos/Mexican and Sheet Pan recipes. I've indicated before each recipe with a V=Vegan and GF=Gluten-Free when applicable. I hope this post will help you find delicious meat-free inspiration to please everyone in your family. Let me know below if you find a new vegetarian favourite or you have a great recipe we should all try. Cheers!!!
Meatless Monday Curry Mains
Spinach with Cottage Cheese (Palak Paneer) - Soft cottage cheese cubes in a mild spiced smooth spinach sauce. One of the most popular curry from India (and one of my personal favourites!) This has a vegan option (tofu) included. I was introduced to this one by one of my best friends while travelling through Australia (thanks Anna!) and it reminds me of her every time I eat it. So tasty!!!
(V, GF) Here's a quick and easy Vegan Coconut Lentil Curry recipe that is perfect for an after work, quick, meatless dinner. Made with lentils for protein, less than 10 ingredients and richness from the combination of tomatoes and coconut milk, this is a winner.
(V, GF )This easy to make Chickpea Curry is made in minutes. Protein-packed, gluten-free and vegan too. Creamy and smooth, this is great with some oven warmed flatbread or rice.
A little spicy, quick and full of veggies, this Spicy Vegan Peanut Pasta Salad is a delicious way to use up leftover spaghetti noodles. It's fast and easy to make and is the perfect recipe for Meatless Monday dinner, lunch boxes and potlucks.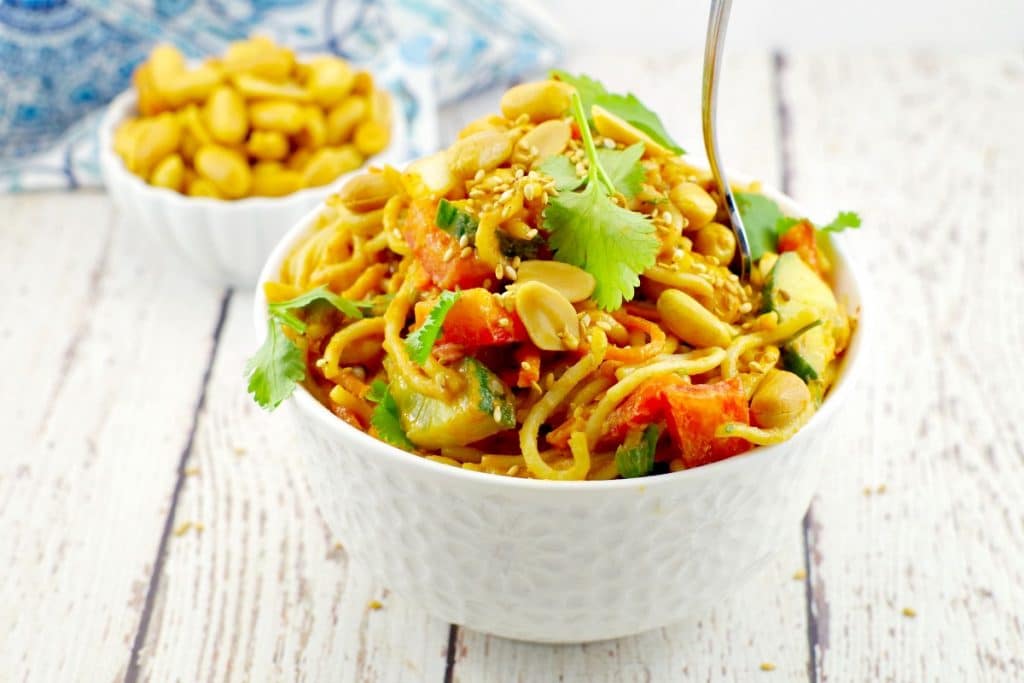 Veggie Pub Grub and Meat-Free Comfort Food!
(V) Vegan Shawarma! Tantalizing middle eastern flavours packed away in this pita to create a mouth-watering mushroom shawarma. Lots of authentic spices make this vegetarian recipe taste like the original while being vegan. As a mushroom lover, this is one of my top 5 recipes on this list!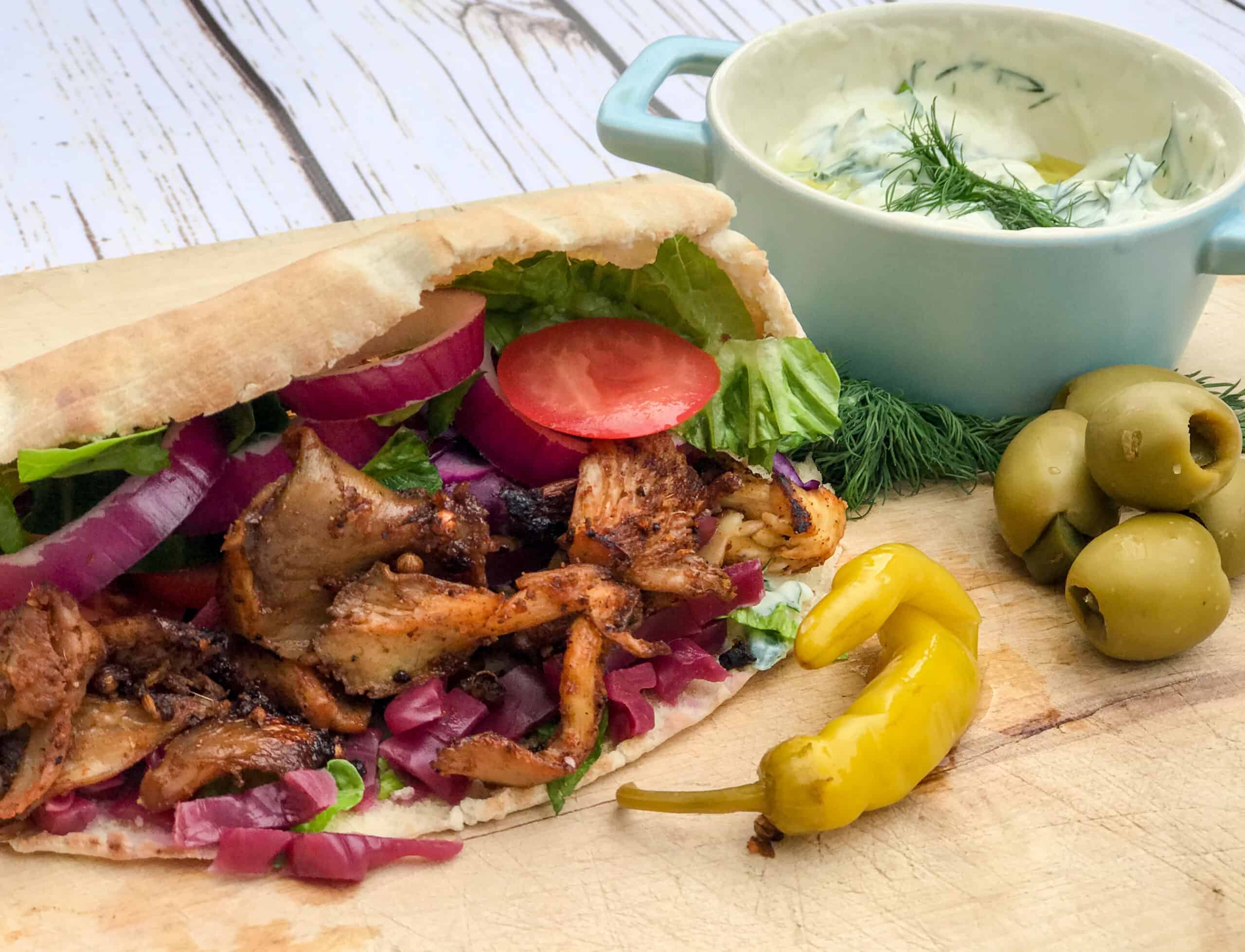 (GF, V option) Best Vegetarian burger made with quinoa and black beans! Burgers are baked in the oven to make more healthy. This easy recipe results in a juicy quinoa burger that even meat eaters will love! This has a great tip on vegan egg substitute too! Also, if you really want to go all out, try making my homemade ketchup recipe with real garden ingredients.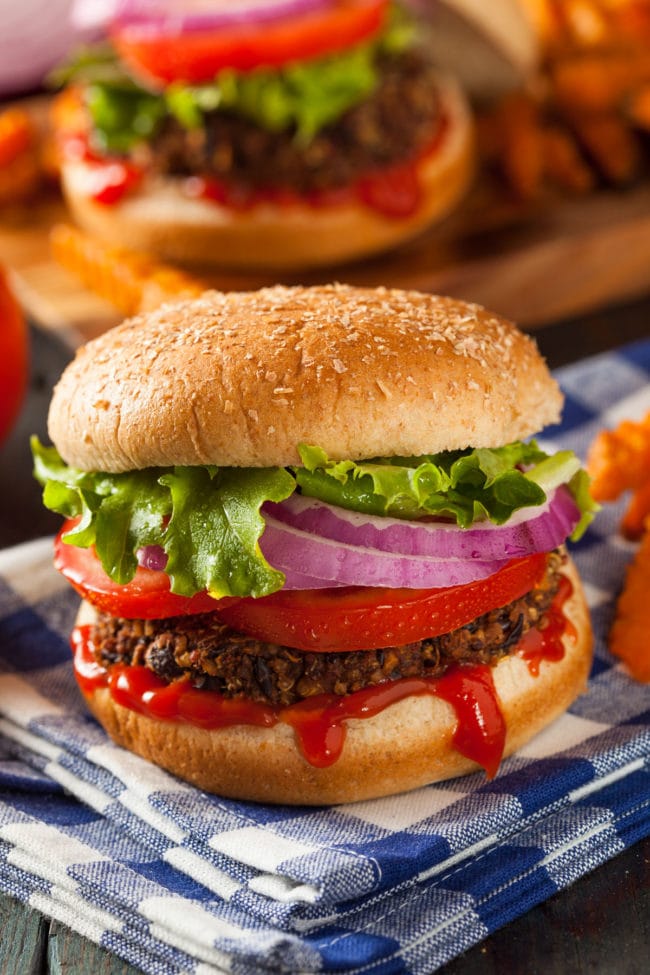 (V, GF) A Buffalo Roasted Cauliflower is an impressive and easy meal paired with a side of quinoa or brown rice. . It is crisp and golden on the outside with a tender, delicious center. Serve it up with spicy Buffalo Sauce or pair it with your favourite pesto.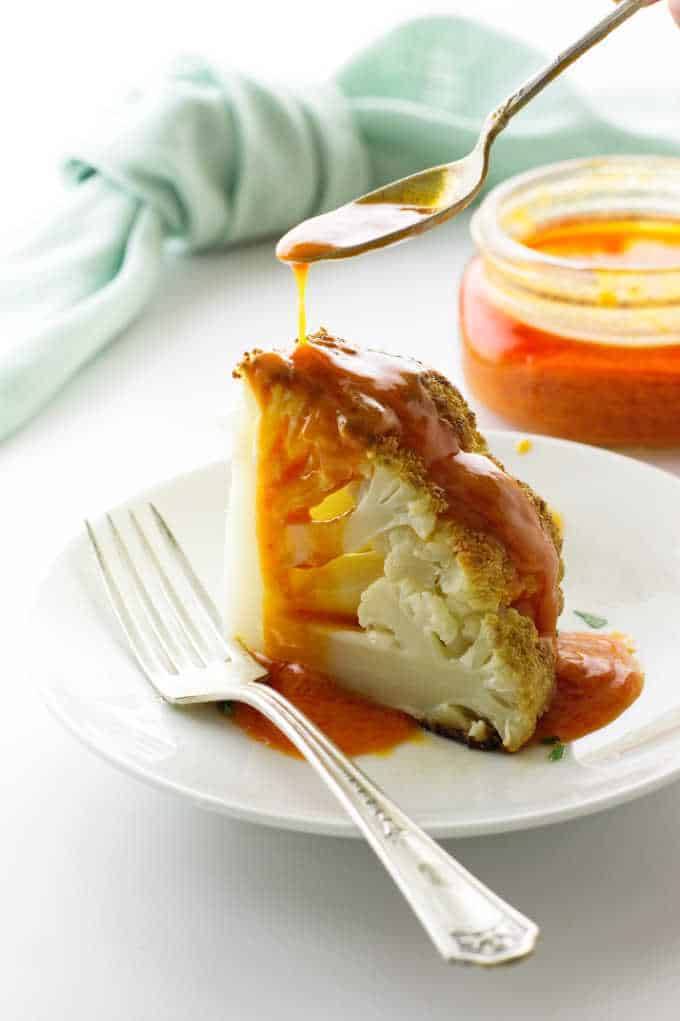 When you love pierogies but you're not up to the work of it all, this Lazy Pierogi recipe saves the day! Super kid-friendly, vegetarian comfort food at it's finest!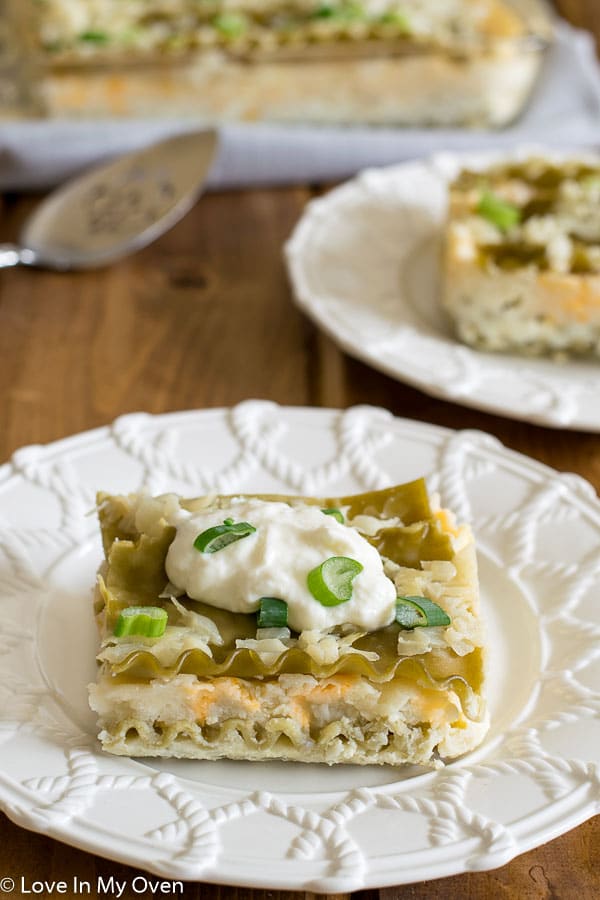 Roasted Garlic-Herb Mushrooms and Butternut Mash is easy and healthy, plus this is a diabetic-friendly meal. The earthy taste of the garlic-herb mushrooms pairs so well with the natural sweetness of the butternut squash. An elegant meatless recipe, try this with wild mushrooms in the fall.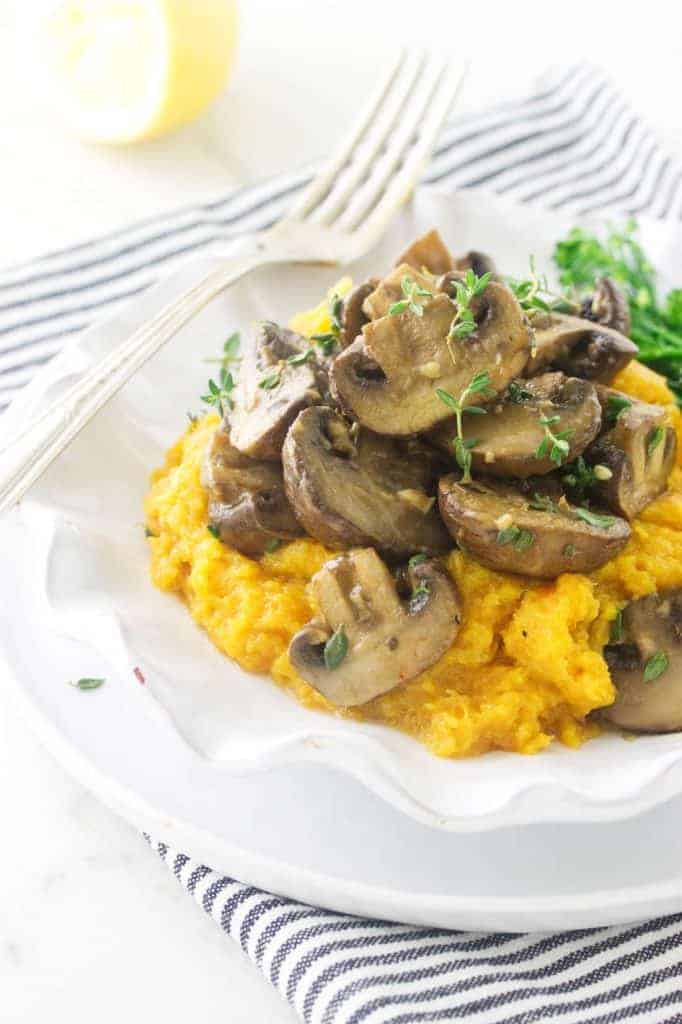 Roasted vegetable and feta quiche is a hearty, healthy vegetarian dinner recipe with lots of flavor - no one will miss the meat in this one! Delicious at room temperature too, this is a good one to pack for lunches or picnics.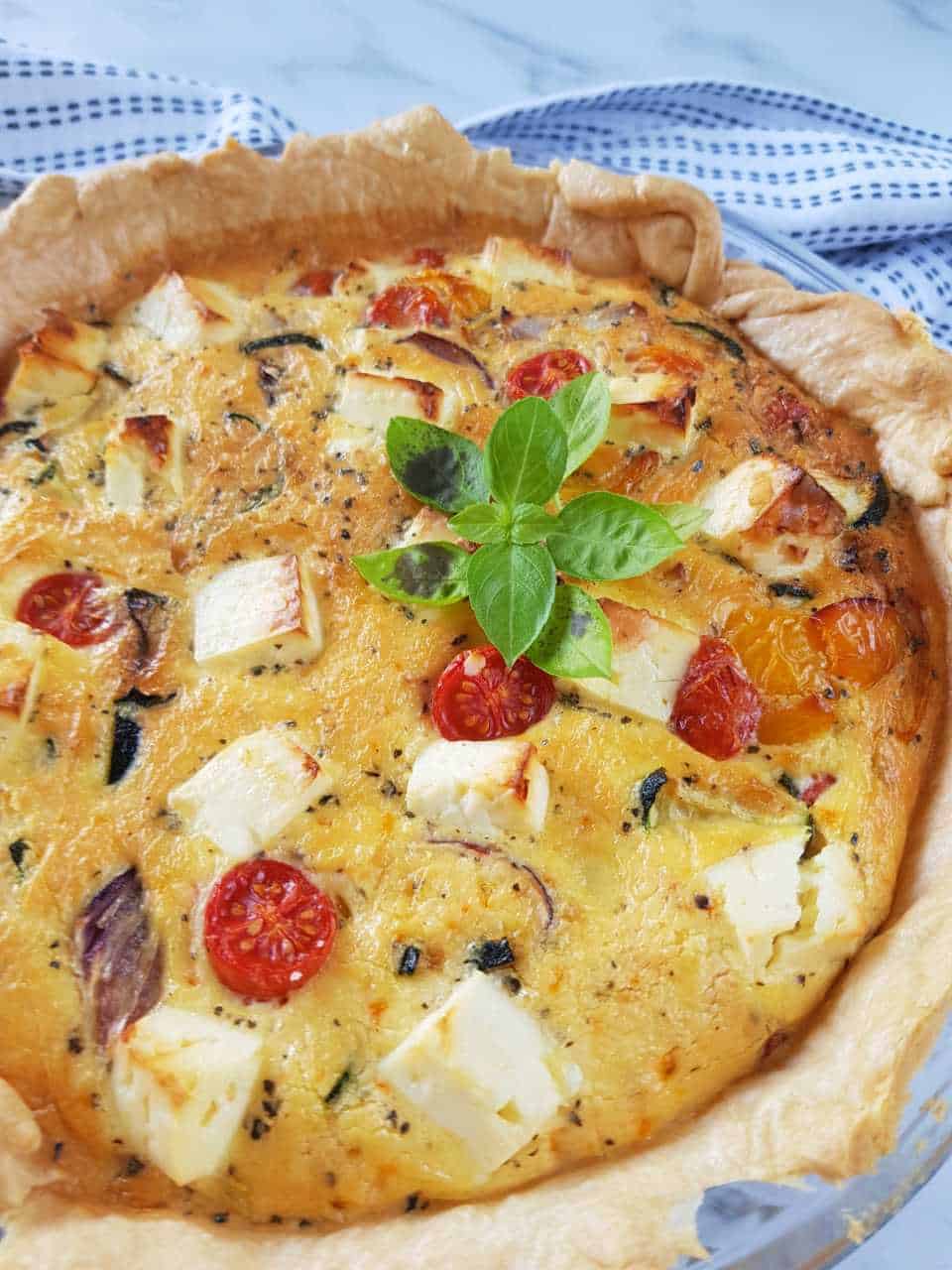 Crispy Zucchini Cheddar Fritters are delicious dipped in herb yogurt dip or simple store bought marinara sauce. These crispy veggie bites are packed with protein and vitamins but naughty enough for game day noshing!
Quick and Easy Zucchini Pizza is a delicious way to celebrate summer. This is a no-fail, easy pizza dough recipe with thinly sliced summer squash and torn squash blossoms. It tastes equally good at room temperature making it great for a picnic or packed lunch.
Meatless Pasta And Risotto Recipes
(V) Pasta is a Meatless Monday recipe staple. For this one, all you need is 20 minutes and a love of Italian food for Vegan Tempeh Bolognese. Gently simmered with classic Italian herbs, fragrant garlic, and roasted tempeh "meat" this is sure to become your favorite vegan spaghetti sauce! Invite some guests over, turn on some Puccini and get ready to say, "Prego!"
(V) This vegan Lentil Bolognese Sauce is hearty, nutritious, and only takes 25 minutes to cook! It's also cheap to make and freezes well. A true go-to recipes for easy weeknight family friendly meals.
(GF) Classic Mushroom Risotto, whether you use wild or cultivated mushrooms, is always an easy elegant dinner. I've used chanterelles in this recipe but button mushrooms work too. Reserve a few sauteed mushrooms browned in butter to top this creamy delicious recipe.
(V, GF) Dairy-free? Vegan? Missing mac 'n cheese? This Easy, Creamy Dairy-Free Macaroni and Cheese is what you need! Delicious vegan comfort food!
(GF) Easy Asparagus Risotto seasoned with lemon and herbs is spring in a bowl! Making risotto is simple and meditative as you stir rice and vegetables together for a rich and comforting dish.
(V) One Pot Taco Elbow Pasta done in 20 minutes and on a budget (only $1.50 per serving). Healthy vegan dinner recipe that is simple, family friendly, oil free, high protein (28 g), and weight loss friendly (430 calories).
Baked Spaghetti Squash with a rich cheesy Alfredo sauce! The creamy Alfredo sauce is mixed with cooked spaghetti squash, placed back in the squash shells and baked until golden and bubbly. Delicious comfort food that will satisfy all your cheesy cravings.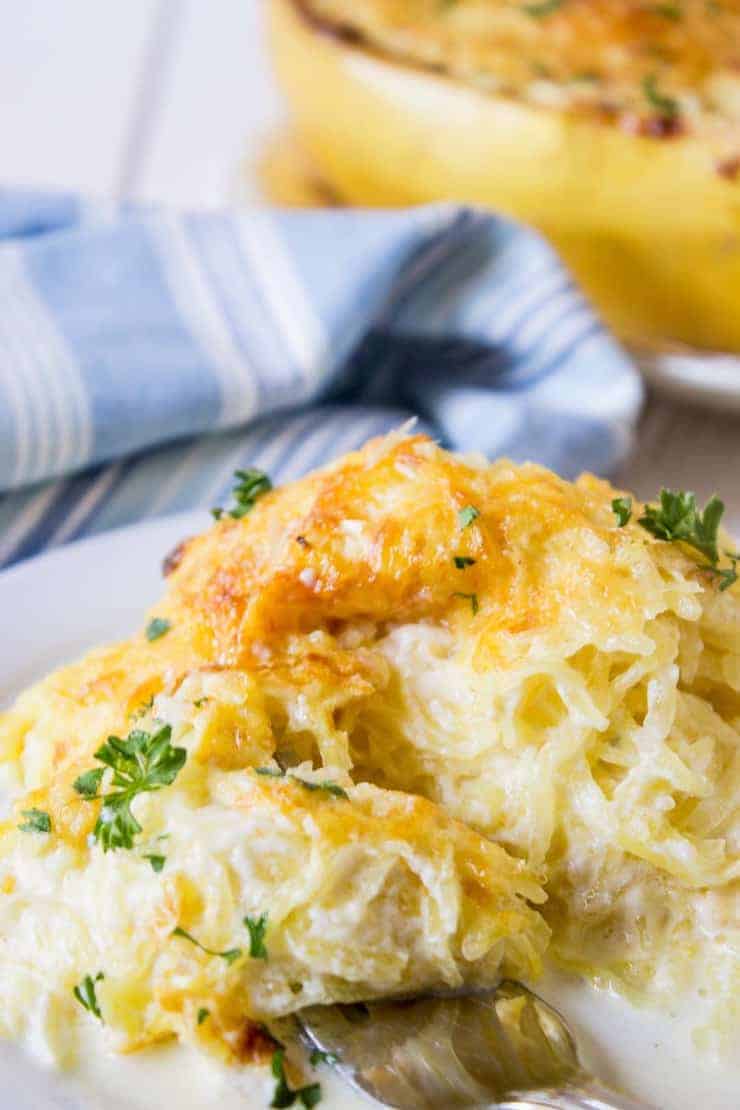 Sheet Pan Magic! So Easy!
Delicious Sheet Pan Gnocchi with Roasted Vegetables is the perfect vegetarian dish for Meatless Monday! Classic Italian gnocchi is hearty and flavorful with the deep, rich flavor of roasted veggies and topped with a dusting of fresh Parmesan. Pass the pepper grinder for added fresh spice.
(V, GF) This sheet pan recipe for Roasted Tofu, Cabbage & Peppers is an easy way to meal prep a healthy and nutritious vegetarian meal to enjoy throughout the week. This recipe has a great tip for getting your tofu crispy!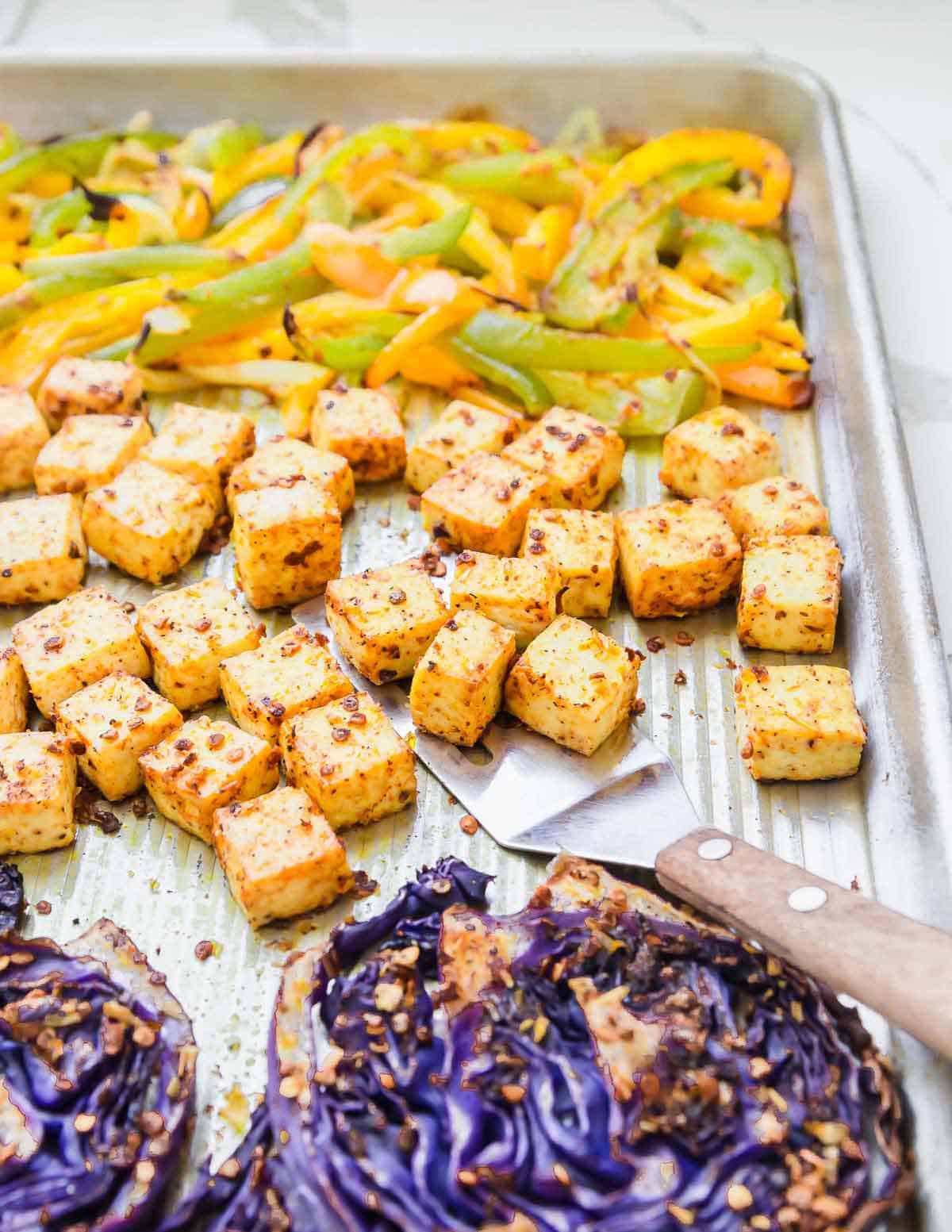 Vegetarian Stew, Soup and Stirfry
(V) Lentil and Wild Mushroom Stew is so warm, comforting and delicious and packed with protein and iron. Lentils cook quickly so this can be on your table in about 30 minutes and they are an iron powerhouse. Serve it up with some mashed potatoes or soft polenta and pack the rest for your lunch the next day.
Sweet and Spicy Ginger Tofu with Veggies gets it's flavor from highly nutritious ingredients and delivers crave-worthy taste! A complete balanced meal that can be prepped ahead, this recipe comes with a tutorial for cooking tofu too!
(V, GF) Vegan picadillo is a plant-based version of a traditional Cuban recipe made with tempeh, lentils and potatoes. It's packed with big flavors from Spanish olives, capers, raisins and spices in a hearty tomato base. Traditionally served over rice, or try cauliflower rice, a bed of greens or zoodles. Instant Pot and stove-top options included!
(V, GF, Allergen-friendly) Do you love a slow cooker meal? This simple Vegan Vegetable Stew has black beans for protein and simmers away slowly while you're at work or play all day. Come home to a warm bowl of comfort food.
(V) This Vegan Shepherd's Pie is packed with plant-based protein and incredible flavours! It's so easy to make, and ready in under an hour. Serve this for special occasions, a wintery dinner, or pack it for lunch. Great for meal prep, and suitable for freezing.
(V, GF) Vegan Italian White Beans are a frugal budget friendly dinner and once soaked, these are as easy as turning on the stove. White beans are mild and creamy and this recipe has a bright fresh herb mix to stir in at the end and really elevate these beans to restaurant quality! Pour a glass of Italian white wine, toss a simple green salad and serve with crusty bread for a laid-back Meatless Monday meal. Ciao!
(GF) Gluten-Free Broccoli Cheese Soup is thickened with pureed veggies making this a nutritional powerhouse! Call it cheesy vegetable soup and load your kids up (and yourself) with a vitamin rich meal packed with lots of flavor. This is a regular staple in our household because my kids love it and I feel good serving it to them.
(GF) Roasted Cauliflower Soup with Hazelnuts is an elegant, comforting, rich and creamy meatless recipe. Hazelnuts pair perfectly and this is easily made vegan by using unsweetened nut milk. Garnished with roasted hazelnuts, parsley and croutons. (Gluten-free if you omit croutons)
Meatless Mexican! (Tacos etc)
(V) Vegan Tacos! Chipotle corn salsa, fresh and zesty tomato Pico de Gallo, crunchy tacos complete with mouth-watering tempeh taco meat come together and create the BEST vegan tempeh tacos you'll ever have. These tacos boom with the smoky flavor of chipotle peppers, sweet roasted corn, tangy tomato salsa and savory vegan taco meat that will leave you craving more!
Vegetarian Black Bean Enchiladas make the perfect busy weeknight meal that can be prepped ahead and baked when ready. A black bean and vegetable mixture is topped with your favorite enchilada sauce and cheese and baked into a warm, gooey Mexican favorite.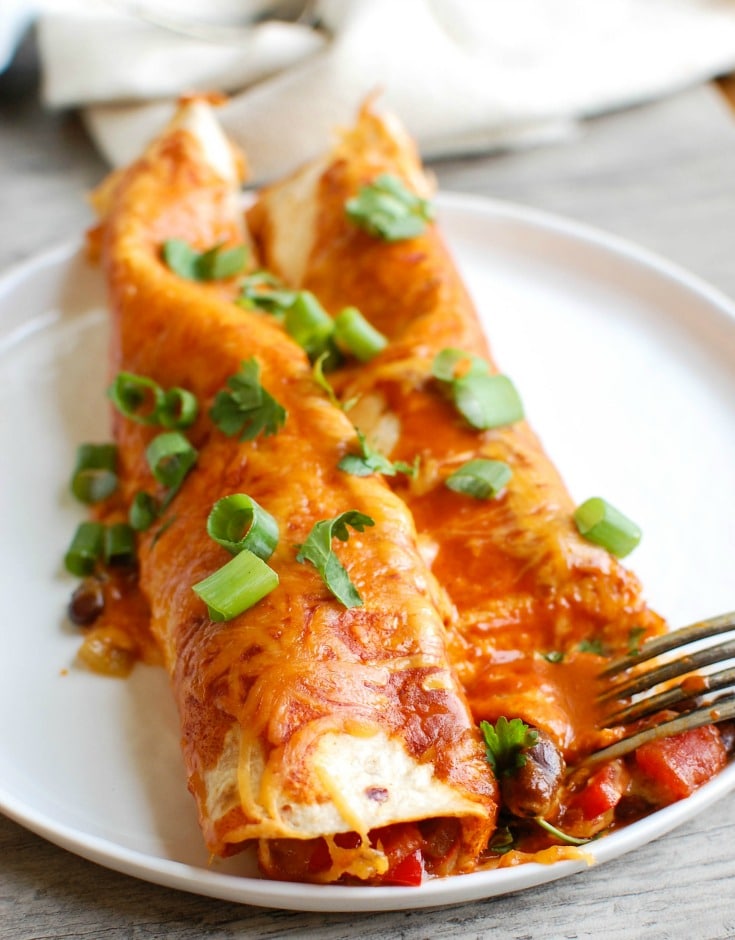 The best healthy Vegetarian Quesadillas are great for lunch, dinner or an appetizer. Filled with black beans, sweet potato, avocado and cheese you won't even miss the meat!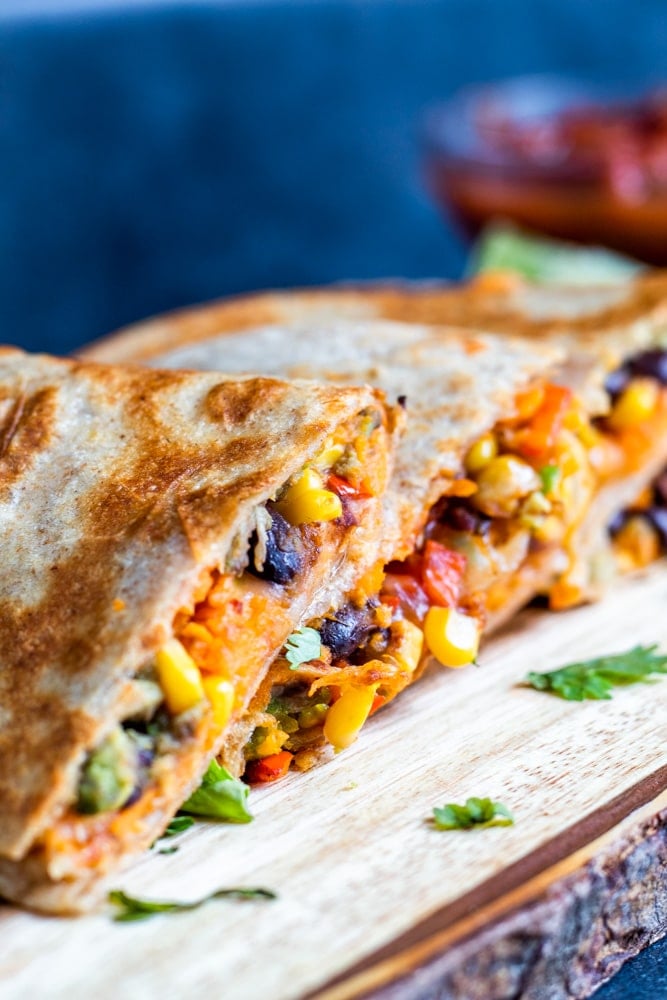 Ultimate Vegan Burrito – the perfect meatless meal! Loaded with chipotle black beans, cilantro-lime rice, pico de gallo, avocado, and spicy sauce. They are packed with flavor and will be on your table in no time!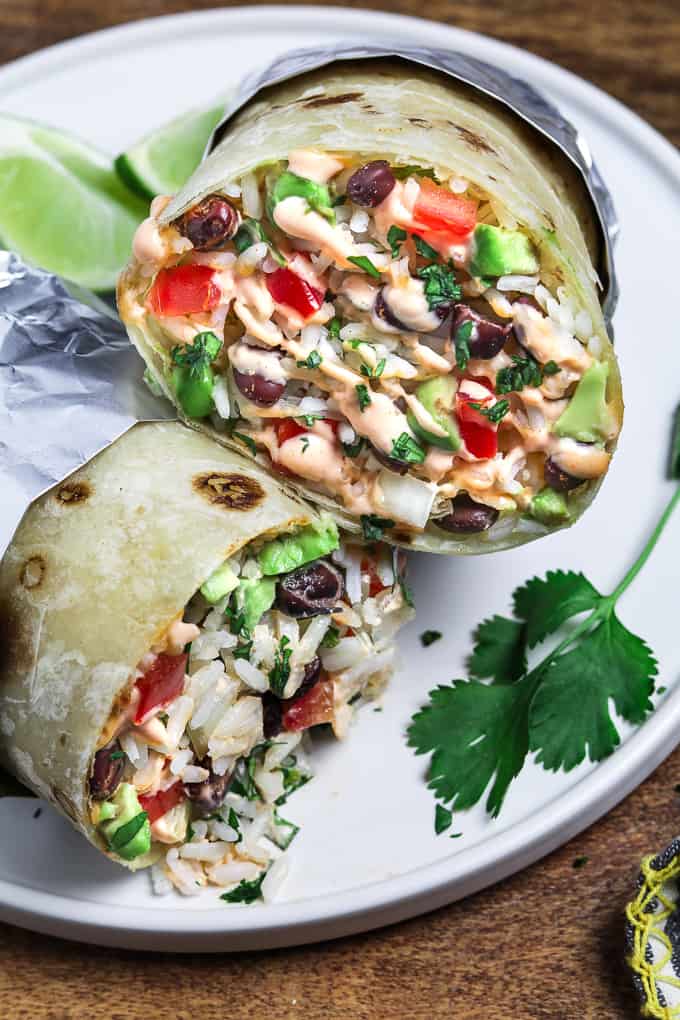 I hope this post has helped you find Meatless Monday recipe inspiration, I know I sure have! Cheers to starting out a new week (or any day of the week) with a nutrient rich, vegetarian, feel good meal. (If you liked these recipes, follow my Facebook page for regular West Coast sustainable recipes from myself and some of my favourite food finds!)
ox Sabrina