Spring is the season for halibut here on the West Coast and I bet a few of you will be looking for some delicious fresh halibut recipes. Halibut is one of my favourite fish, its light flavour, firm texture and speed of cooking are great. It is low in fat and full of good vitamins.
Delicious Halibut Recipes for Fresh or Frozen Fish
Many are probably familiar with it in fish and chips but when you get it fresh, it's great to cook it up in other ways that won't hide the delicate fish. These halibut recipes are all quick and easy without sacrificing flavour-a total win! (A quick note-because halibut is low fat, it is best cooked lightly and for a short period of time to maintain it's moisture.)
Did You Know I Used To Commercial Fish?
It's true and I loved it! As a deckhand for over 12 years, I fished for halibut, salmon, prawns and shrimp as well as sport fishing for cod, crabs and digging for clams in my time off.
I loved the adventure, the anticipation of the catch and the peaceful solitude of cruising through inlets and islands that very few people get to see and experience. Exploring old coastal villages, experiencing dramatic storms and watching grizzly bears from the safety of the boat is definitely something I miss. (Check out the bear I caught multi-tasking below lol)
Halibut Are Seasonal
Just like fruit and vegetables, fish are seasonal. Limits for fishing time and amount of each species caught are set to optimize fish stocks. Spawning time, time to maturity and numbers of each species are taken into account among other factors, to determine how much fish can be caught and when. Halibut season usually begins late winter and that is the best time to buy them fresh and at their peak but this fish freezes well and can be bought frozen year round. Halibut is a sustainable and Oceanwise fish (Here is a great infographic list of Oceanwise fish). Below is a collection of some of my favourite Canadian halibut recipes, I hope you enjoy our West Coast bounty.
Halibut Cheeks With Lemon Pasta
Halibut cheeks are small scallop-like chunks of meat from the head of the halibut. This first recipe is my own and I entered this recipe into a recipe contest hosted by Locals Restaurant on Vancouver Island and won 2nd place! If you buy a whole halibut, be sure not to waste these delicious little morsels, they have great texture and flavour.
Golden crispy Paleo fish fillets with light and refreshing lemon caper sauce. Perfect for quick easy weeknight meals and hot summer days with it's zesty bright sauce.
This yummy meal is low in fat, carbs, and calories, but high in protein, and gluten free. It's easily adapted for a Whole 30 or Paleo diet. I would serve this healthy baked fish with some crusty bread or rice pilaf and a nice white wine…you'll be living large with very little effort.
This restaurant-style dish is easier to make than you might think. Crispy pan fried halibut with a rich yet healthy side of spinach. Full of flavour with no guilt makes this a win for me 🙂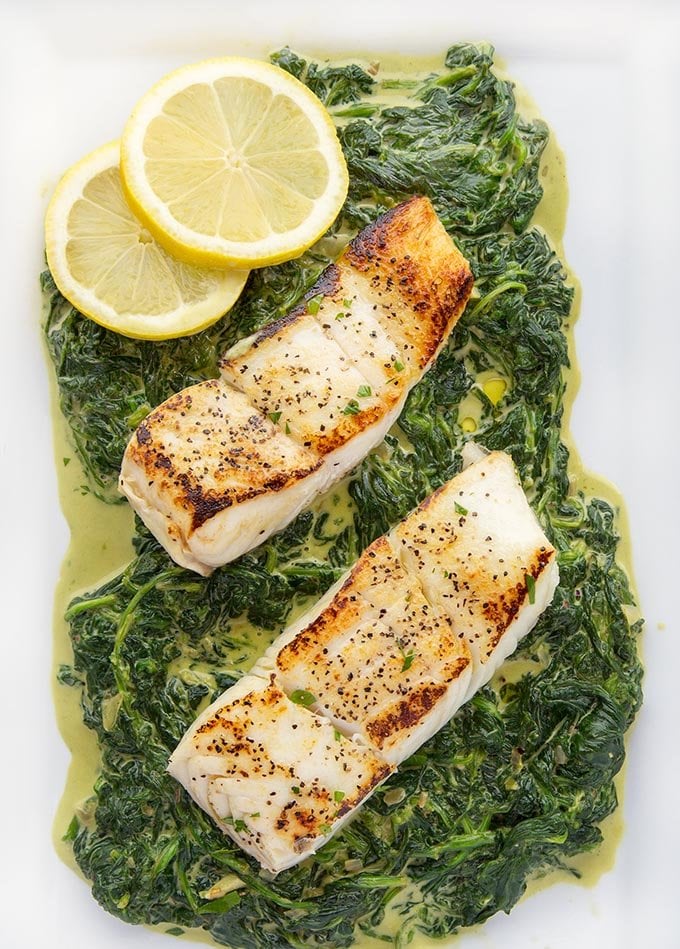 Simple poached fish with fresh salad greens is the perfect way to get a spring-ish vibe going in your kitchen ~ it's healthy, gluten free, dairy free, low carb, Paleo, Whole 30 and delicious! I love a dish that's as beautiful as it is tasty, this would make a wonderful dish to serve company.
Halibut with a light and flavorful bread crumb topping is a delicious and easy recipe. The lemon beurre blanc kicks this up into restaurant territory while still being an easy recipe.
A simple combination of dry roasted salted macadamia nuts and panko bread crumbs gives this fish the perfect crispy coating. ( I love crispy fish!) The sauce is made with pear juice, fresh ripe mango, lime juice and cream-a sweet, creamy and delicious highlight! If you prefer dairy-free, you can use coconut cream!
Have you ever steamed fish in parchment? It's a game changer! This recipe for tasty African–inspired Halibut in Parchment with Warm Date and Apricot Salad is creative, fresh and mouth watering! Parchment cooking (en papillote) is a classic French way to maintain moisture and is much easier than you might think.
I love this creative recipe inspired by and designed around PNW halibut. Verjus is a tart, fresh non-alcoholic juice pressed from unripe wine grapes – essentially a very young white wine without the alcohol and paired with a little truffle oil makes a rich and delicious salad dressing.